The technology behind our Dogtaps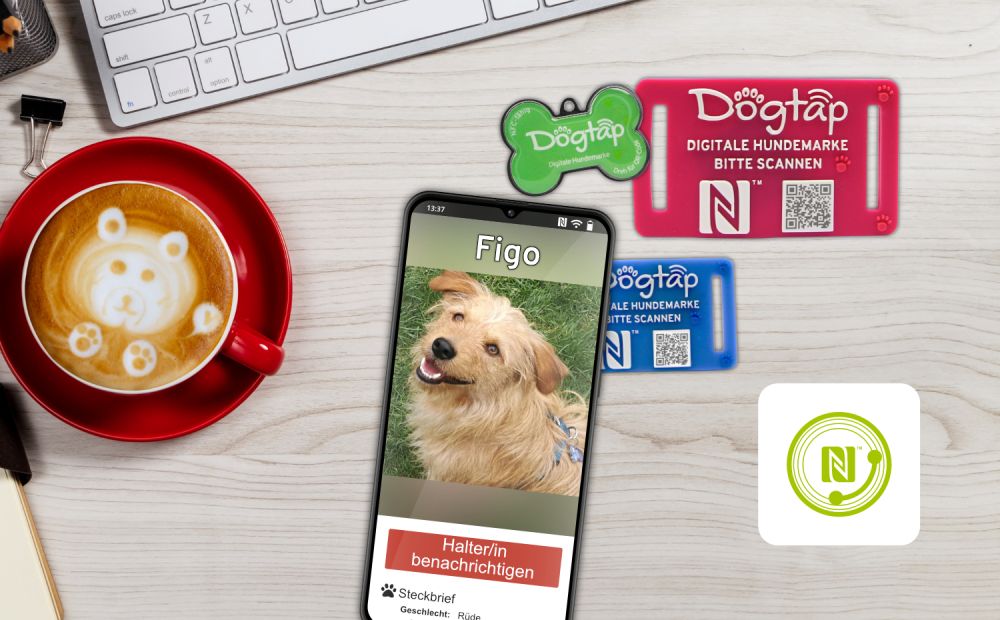 28.07.2020
Unlike conventional dog tags, Dogtap is a digital dog tag. The digitalisation of the dogtap is achieved by integrating the so-called NFC technology.
NFC - What is that?
NFC stands for Near Field Communication. NFC is a standard for wireless data exchange over short distances (under 10 cm) and, unlike Bluetooth and WLAN, is configuration-free. You can find out more about NFC here.
NFC - numerous advantages combined
The use of NFC has already established itself in the field of contactless payment. Further positive reasons for the use of NFC can be explained on the basis of the many positive characteristics of NFC. NFC is:
Simple: modern smartphones generally do not require an app to read NFC tags.
Robust: Reading is extremely fast and error-tolerant
Versatile: NFC can be integrated into stickers, tags, cards and much more. and much more. Of course, also in dog tags!
Prevalent: NFC can be used with common smartphones
The use of NFC can also be justified from a technical background: NFC is standardized and secure.
Dogtap - digital through NFC
So much for the reasons for choosing NFC in our dogtap. The dogtap itself contains an NTAG 213 chipset from the leading chip manufacturer NXP. On it, a unique link to the profile of your dog is stored. This profile is stored in our Tap21 web portal. Via this web portal you can easily save all relevant data of your dog and change it at any time. If, for example, your telephone number changes or you leave your pet with your grandma over the holidays, you can easily adjust this information in your dog's profile.
Dogtap - with one scan to the profile
To retrieve the information stored in the dog profile, the dogtap must simply be scanned with your smartphone. To do this, make sure that NFC is activated in your smartphone (only important for Android smartphones) and hold it against the dogtap. You can find detailed instructions for the scanning process in this blog post. You can find out if your smartphone is NFC-enabled with the help of this list.
To make sure that dogtap can be read by any smartphone without an app, we have integrated a QR code on both of our dogtap variants. So even a smartphone without NFC can read out the information on the dogtap without problems.
Interested? Then use the links below to learn more about dogtap:
Search by tag