Dogtap - dog tag with GPS?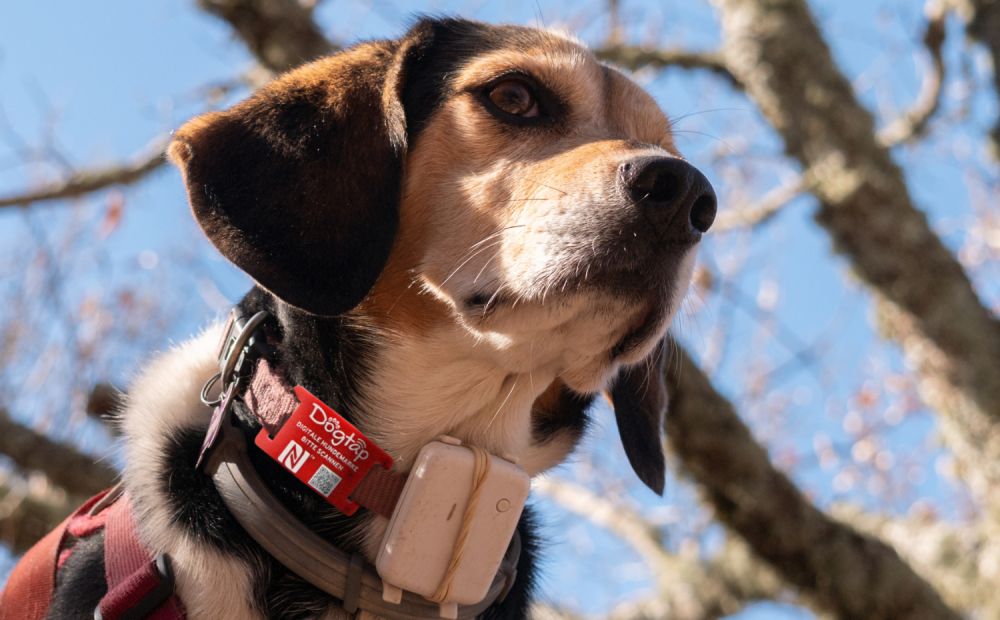 08.11.2021
Dog tags with GPS are no longer a novelty: Via an integrated GPS transmitter, the dog can be located within a defined area and always kept in sight. In this blog entry we would like to go into more detail about what GPS dog tags are all about and answer the frequently asked question: Is Dogtap a GPS dog tag?
GPS dog tags - what are they?
GPS trackers, similar to common dog tags, are attached to the dog's collar or harness. Typically, the dog can then be monitored via an app linked to the tracker. Using geofancing, a limited area is defined - if the dog crosses this limit, the owner is notified.
The clear advantage of such a tracker is that you know where your dog is at any time. Of course only within the specified area. Some GPS trackers also offer additional functionalities via the app, such as documenting the dog's activity level.
Is Dogtap a GPS dog tag?
The quick answer is: Dogtap is a digital dog tag, but not a GPS tag. You may be wondering why Dogtap is not a GPS dog tag if the advantage is so obvious?
Such an advantage also brings certain limitations with it - which we would definitely like to avoid:
Many GPS trackers are relatively large and heavier than normal dog tags. This is because a battery has to be integrated for the GPS tracker to work. It is very important to us that the Dogtap is as lightweight as possible and does not disturb the dog!
The battery must be charged, otherwise the GPS dog tag will not work. With the Dogtap, we want to offer a product that is ready for use at any time after the initial setup.
GPS trackers for dogs use the mobile phone network. This means that a SIM card is needed. And that in turn means follow-up costs - on a regular basis. Often GPS trackers offer an additional subscription that is designed to cover the mobile phone costs for GPS trackers. Nevertheless, these are monthly costs. With the Dogtap, we have deliberately dispensed with follow-up costs!
If the dog is outside the tracking range, it can no longer be tracked. Dogtap works everywhere - if your dog is found, the current GPS position can even be sent directly to the owner.
Dogtap is therefore not directly used to monitor the dog. Dogtap is a digital dog tag which, in the event of an escape, ensures that you as the owner can be identified and contacted at any time. In addition, the comprehensive and up-to-date information about you and your dog can be used to ensure care at all times.
So you see - Dogtap is not a GPS tracker. But why not simply combine a GPS tracker with the Dogtap? When buying a GPS tracker, however, you should pay attention to the following points:
The GPS tracker should be easy to attach but firm. Since you need to charge it regularly, it should be easy to detach the tracker from the collar. Of course, it is equally important that your dog does not lose the tracker too quickly.
It's not just dog tags that need to be robust and waterproof! It would be very annoying if the functionality of the GPS tracker were lost just because the dog goes swimming.
The size and weight of the tracker are really important. You should definitely make sure that you choose a model that is as light and small as possible. Your dog should not be disturbed while running around.
Check whether the GPS tracker in question offers a subscription. This can often save you money, as you don't have to search for a suitable tariff.
Finally, it is definitely worth comparing the battery life and other possible additional functions to find the best product.
We hope we have given you an insight into the functionality of GPS trackers. If you would like to find out more about the Dogtap digital dog tag, take a look at the website or the blog.
Search by tag