Halloween with your dog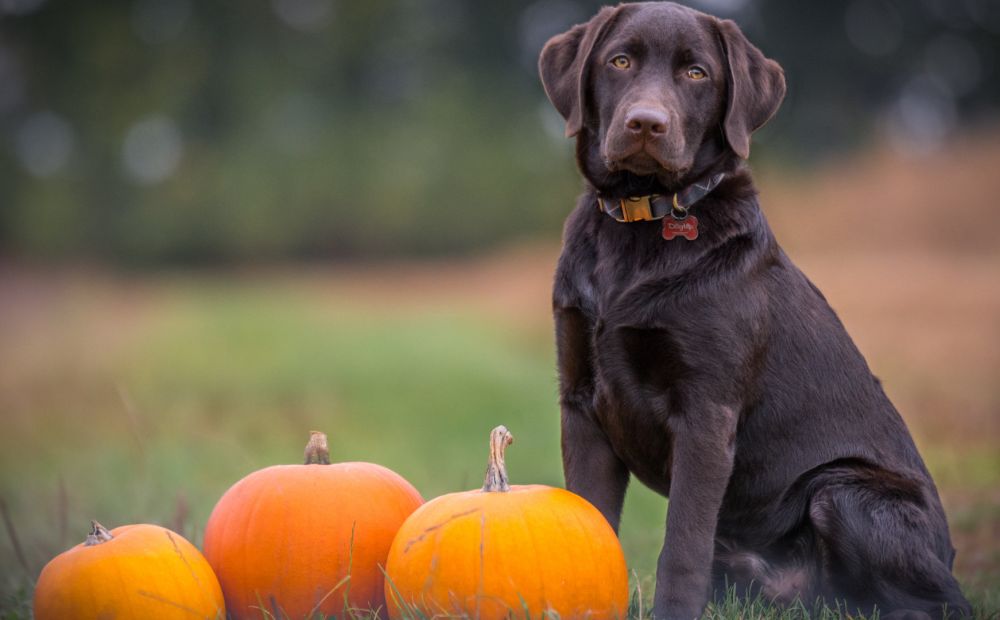 24.10.2019
The popular Halloween festivities from America are starting to become popular all over Europe, too. Halloween is celebrated in the night from the 31st of October to the 1st of November. Halloween is becoming more and more popular, which shows itself especially with the crowds of disguised people and carved pumpkins.
But as with every popular festivity, it is important that you make such a turbulent time for your four-legged friend as stress-free as possible.
How does stress develop for my dog on halloween?
For example, if you live in a more populated area, it's not unlikely that on Halloween many costumed children will ring the doorbell or knock to demand trick or treats. Just the number of strange people and constant ringing of bells at the front door can be a big stress factor for some dogs. Even a dark or creepy costume, which hides the face of the costumed person, can frighten some dogs. Thereby it can difficult for him to assess whether the stranger at the door is a danger for him and his loved ones.
Sometimes it is very loud and illuminated on the streets - children's laughter and "boo calls" can confuse the dog if he reacts sensitively to sounds.
How can I minimize the stress level for my dog on Halloween?
If you enjoy Halloween and want to participate in the distribution of sweets, make sure your dog is not near the door or the entire entrance area. By taking this precaution you can prevent your dog from running out of the door in case of a panic attack.
The best thing to do before it gets dark outside is to go for a large walk with your dog, so that he can get tired. Alternatively, some mental exercises can lead to the same result. If your dog is particularly sensitive and anxious, make sure that there is a second person with you in your apartment. They can either answer the door or stay with the dog if someone rings the doorbell. It is best if your dog is on a different floor or in a closed room.
Even though it could result in a sweet picture or two, it can be very stressful for some dogs to be disguised. The restriction of movement and the unknown feeling can be an enormous stress factor for many dogs.
Sweets and decoration - the dangers of all celebrations
Of course, we must also mention this source of danger. Many "normal" foods are already poisonous for your dog. Chocolate and sweets are no exception. If your dog steals a piece of sweet, he could also ingest the packaging. In addition to food poisoning, your dog could suffer from intestinal obstruction as a result.
This is also the case with decoration. Be careful that your dog does not mess with the decoration and confuses it with a chewing bone or something edible. Candles, which are very popular on Halloween, can also be a source of danger. So if your dog is a little rascal with a destructive urge, try to keep all this away from him.
We wish you and your dog a very scary Halloween time!

Did you like this festivity special? Then have a look at our other specials:
Search by tag