Christmas with your dog (Part 1) – Tips and what to keep in mind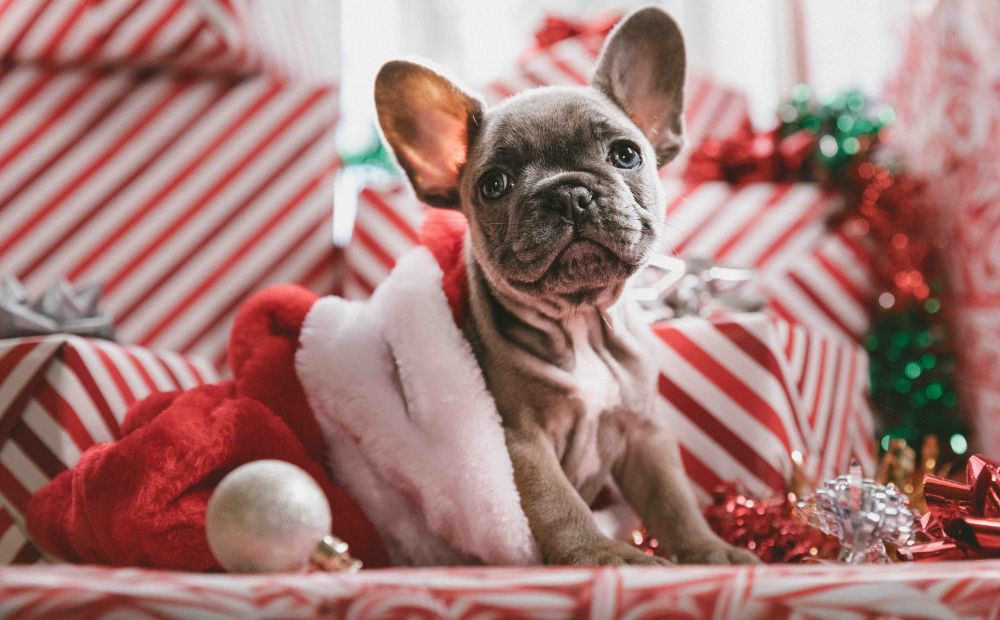 12.12.2018
The Christmas season has begun and you may be wondering what to expect with your four-legged friend by your side. What should you pay attention to in the pre-Christmas time and on Christmas Eve, in order to spare your dog the Christmas stress and the hecticness? How does your dog perceive Christmas? What can be a risk during this time? We will answer these questions in the following article and give you tips on how you and your dog can enjoy Christmas together.
As you might know, your dog has a high sensitivity for your feelings and emotions. He might be noticing all the stress that you are going through. He probably lacks an understanding of the family celebration,but notices the deviations from your everyday life and rituals. There are dogs that can cope very well with the pre-Christmas period and there are dogs that are very sensitive to it. It is important that you try to understand the signals of your dog and to not overcharge him.
To avoid the hustle and bustle, try to approach the Christmas season with your dog in a relaxed manner. Take long walks with your dog. Why not try new ways with your four-legged friend and let him explore the wintry area? Maybe he will even get to experience his first snow.
Try to plan foresighted. This is one way to prevent stress right from the start. You should think about whether it makes sense to take your dog with you everywhere. For example, have you chosen a special day to go shopping for presents? It might be best to leave your dog at home or make sure that someone stays with him. The pre-Christmas period can be very exhausting for your dog, especially when it comes to large shopping malls or Christmas markets.
Flashing lights, food smells and many people can cause enormous stress for your dog. However, this does not mean that it is impossible to visit the Christmas market with your dog. It is important to pay attention to the character of your dog and to prepare yourself. For example, it is recommended to choose Christmas markets, which have less operation and are essentially smaller. In addition, the time also plays a decisive role. You will notice that it is much quieter at noon or in the afternoon. It is best to feed him before the visit so that the food smells don't become unbearable for him and he doesn't start whining. Also check if he shows signs of anxiety. If your dog is particularly sensitive to the hustle and bustle and can't cope with it in general, it may be a good idea to use homeopathic remedies to reduce stress. However, it is important to discuss these measures with a homeopath or a veterinarian beforehand. However, if you prefer to go to the Christmas market in the evening, you should consider leaving him at home.
The same principle applies to the holidays. If it is Christmas Eve and/or Christmas, try to keep the daily routine for you and your faithful companion as well as possible, even if it doesn't seem easy. This is especially important for playing and feeding times. Thereby, your dog gets less excited and gets a feeling of normality from you. If, however, the party differs too much from your daily routine, it is advisable to feed your dog before you visit others - or go for a visit - and take him for a walk. This will also reduce your dog's exposure to temptations such as food smells.
We hope you enjoyed these general Christmas tips. Next week part 2 of our Christmas series will be released: Christmas with your dog (Part 2) – Christmas treats, decorations and other dangers. Make sure to stop by to read all the tips and to make Christmas with your four-legged friend as pleasant as possible.
Search by tag