Dogtap in German television - our experience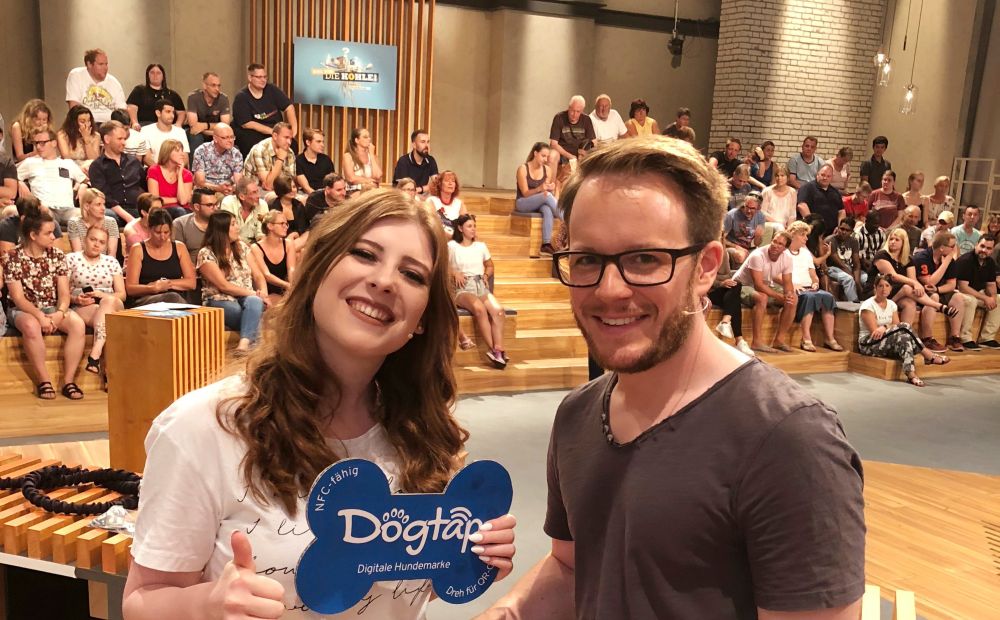 21.11.2018
Traveling to the TV-Studio
Our day started with traveling to the TV-studio where the show is recorded. We felt curious and of course a little nervous because we only had a vague idea what will happened and what is expected from us. Even though, we already have some experience shooting youtube videos, this experience was on another level because of the amount of people involved.
After our arrival we had a few minutes to settle down just before first interviews and statements were filmed. Luckily our team and the whole production team was very kind and supportive. To our excitement it turned out, that our office dog Lotti is a born camera professional. She remained calm and relaxed all the time and clearly enjoyed the attention she got.
The pitch
Subsequent to our first interviews, we had some time to relax and talk to other candidates of the show. It was thrilling to see that really everyone was as enthusiastic as we were. We clearly enjoyed talking about all the inventions and time flew by fast.
Finally, it started to get serious and we realized: We have to focus on our pitch and ignore everything around us. And, as you have seen, it worked! We managed to use the whole 100 seconds for our pitch (which we though was way not enough time) and made it to the show. The audience liked our idea, even though we were a bit afraid that our explanation is not clear enough. We were not disappointed and had the chance to see the audience. What a moment!
We were standing behind one of the three candidate desk and answered some questions und listened other ideas. It was exciting to see, how the others pitched their inventions. Among them we got to know many likeable people, like for example the dear Sonja from Jacket-bar.
Thank you
A big thank to all the editors who helped to cope with nervousness, the camera-staff who always threw some funny slogans or comments. Also, the presenter Florian Ambrosius was a breeze to talk to. We are glad that we had the opportunity to introduce Dogtap to a bigger audience. We hope you enjoyed the appearance as much as we do.