Dog care & dog sitters - what to look out for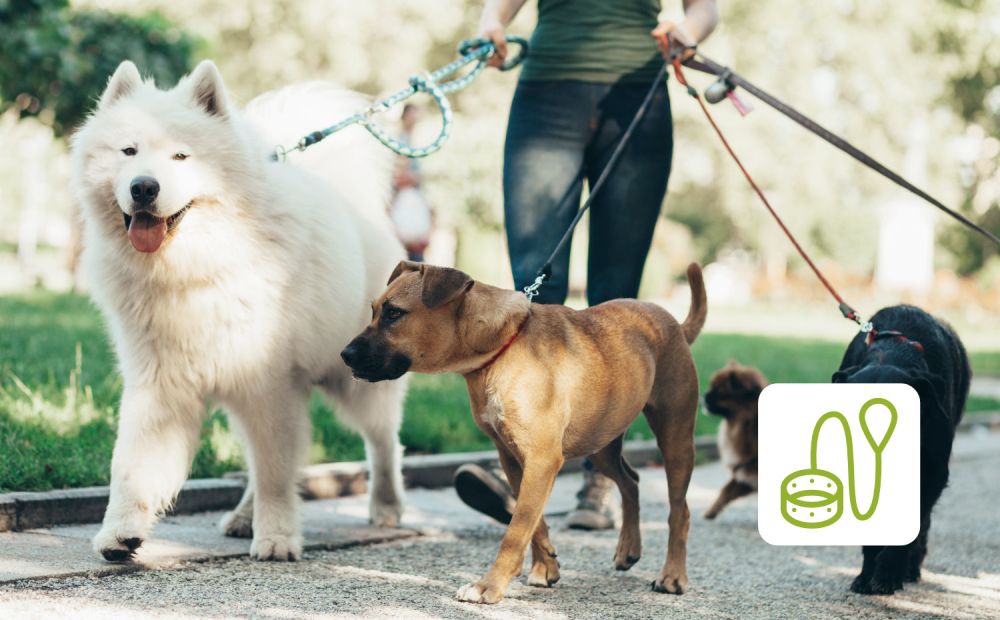 20.05.2020
Ideally, before you get a dog, you should already think about who can look after your beloved pet in an emergency situation. Your friends and family can often step in, but there is not always the option to ask them to take care of your dog. A look at other possibilities is therefore always worthwhile.
The advantage to ask someone from your friends and family is that your dog is often already used to them and that you have confidence in them. However, this does not necessarily mean that these people also have the best "qualifications" to look after your dog. For example, if your dog is very jumpy or is not yet completely obedient, experienced dog sitters are often the better choice.
What are the options?
A lot of different options are available when you decide to have your dog looked after professionally. At best, this decision should be made as early as possible so that you can get your dog used to being looked after in advance. Only searching for a dog care option in an emergency can be problematic.
For longer stays, e.g. if you as a dog owner go on holiday for a few days and cannot take your dog with you, dog hotels are particularly suitable. It should be noted that the type of accommodation for the dog can vary greatly - this may also be reflected in the price you pay. It is best to have a closer look at such a dog hotels beforehand. Especially if the dog spends a long time there, you should be extremely sure. You should think about leaving your dog there for one or two nights, just to test it out.
Dog day care centre, as the name suggests, take care of your dog during the day. For example, you can leave your dog in the morning and then pick him up again in the afternoon or evening. Payment is usually based on the number of hours you leave your dog there. In most cases, such dog day care centres have an indoor area as well as a large outdoor area where all the dogs that are looked after spend time together. Your dog should therefore not be too afraid of other dogs. Social compatibility is particularly important in such facilities.
However, if it means too much stress for your dog if he hast o spend time with many other dogs away from you, there is a third option: the dog sitter. Dog sitters are usually individual persons who look after your dog in a more or less professional way. The dog sitter offers vary a lot, some dog sitters just walk your dog, others offer an all-day dog care.
For many dog owners, a dog sitter is often the most attractive option for dog care, but it can be more difficult to judge whether the person is really qualified enough. We've put together some tips that can help you determine if the person is a good dog sitter:
- Does the dog sitter already have or had a dog? Sure, you can also fib here, but in a conversation it usually turns out quickly whether someone has experience or not.
- There might also exis the possibility for you to accompany the dog sitter on a walk to watch him work.
- Unfortunately there is no official dog sitter training, but if a dog sitter can prove that he has attended further training or seminars, this is often a good sign.
And the most important of all rules: Listen to your and your dog's gut.
Do you like the person, does your dog react positively to them and do you also like the way the person treats your dog? These are important signs to look for.
To make the whole problem of caring for your dog even easier, we have the ultimate tip for you: animal care platforms.
What is an animal care platform?
An animal care platform is a quick and easy way to find an animal sitter who takes care of your dog and looks after him. We can especially recommend Tibeo to you. The animal care platform Tibeo provides you as a dog owner with a suitable sitter for your dog free of charge. A wide variety of services are offered. For example, a sitter can take your dog for a walk, do day care or make house visits. But Tibeo also offers the right service for longer periods of care. It is also possible for your dog to spend a longer period of time with the sitter or for him to look after your pet in your house. So you have this option in addition to dog hotels if you are on holiday or ill.
With the Tibeo platform you can quickly choose a pet sitter from different sitters in your neighbourhood. You can easily send an inquiry about Tibeo to the sitter and of course rate him or her afterwards.
Tibeo also takes the first step to ensure that the dog sitters are trustworthy. Every dog sitter is checked manually and has to meet different admission criteria to be accepted as a dog sitter on the platform. For example, animal sitters with more than three negative ratings will be removed.
Of course Tibeo does not only offer services for the care of dogs. There are animal sitters for dogs and cats, small animals, birds and reptiles.
Would you like to become a dog sitter yourself?
To become an animal sitter, the same tips we just mentioned apply to you - only the other way around. If you have or had a dog yourself, you are of course more qualified for the job of a dog sitter. Further training, seminars and workshop also make sense. If you already are an animal sitter, you should always arrange a first meeting before getting to know each other, so you can show your potential customer how you work and that you are trustworthy.
In this case we can also recommend the animal care platform Tibeo! You can easily create a profile on the platform and then be found by pet owners via a search. You have the possibility to set the prices yourself, although you can of course vary depending on the type of animal and service. So it is easily possible to become an animal sitter and to attract the attention of pet owners.
As you can see, there are some things to consider when looking for a suitable dog care. This decision should not be taken lightly, as it is of course very important that the dog is always well looked after. Animal care platforms like Tibeo make the decision easier and offer flexible service options.
Search by tag