Valentine's day with your dog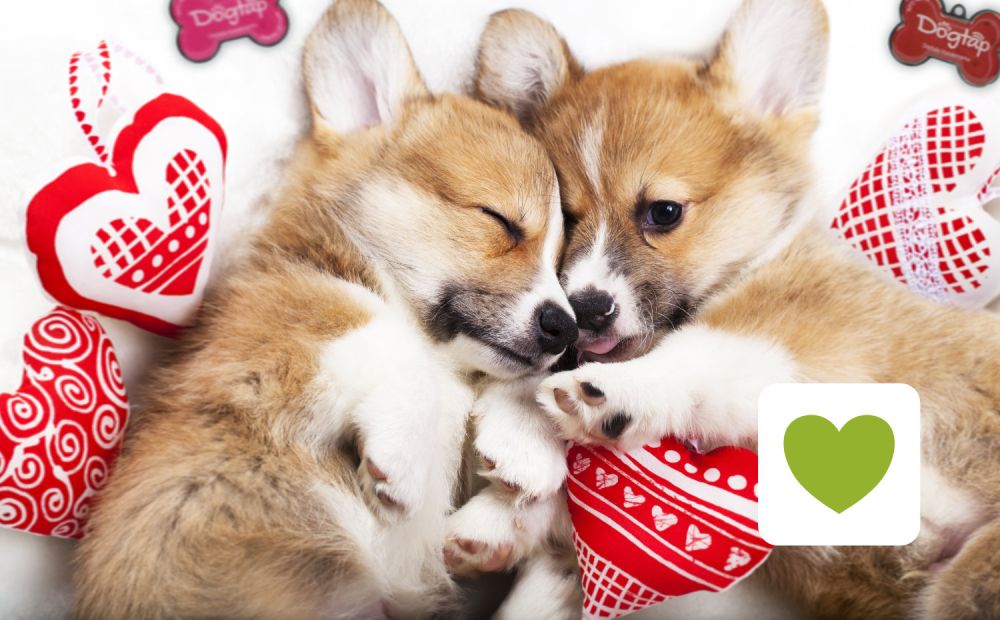 14.02.2021
Are you convinced yet, or do we need to give you a few reasons why your dog is the perfect Valentine's Day companion?
Reasons why you should spend Valentine's Day with your dog
1. you have someone to cuddle with at all times - luckily, contact restrictions only apply to humans 😉
2. No fights concerning the restaurant: order something for yourself from your favourite takeaway and serve your dog something special alongside their usual meal? Check below for a great recipe.
3. If you do decide to cook something special for yourself - no problem! If something goes wrong, you'll always have your faithful four-legged friend by your side to help if you spill something on the floor.
Valentine's Day is the perfect time to treat your dog (or yourself?). Wasn't there that one great dog accessory you've been dying to buy? We can especially recommend the Dogtap – our digital dog tag. What could be better than more protection and security for your dog, all wrapped up in a pretty dog tag?
A great recipe for Valentine's Day
Our recommendation to make your dog happy: delicious Valentine's Day biscuits. If you even have heart-shaped biscuit moulds, you'll go for that extra wow effect.
Ingredients
1 apple
1 egg
40ml water
1 tbsp oil
150g wholemeal spelt flour
75g tender oat flakes
Preparation
1. Preheat oven to 180°.
Peel and grate the apple.
3. Mix the grated apple well with the remaining ingredients in a bowl and knead.
4. Roll out the dough and make the desired shapes.
5. Bake the biscuits in the preheated oven for about 30 minutes.
Remember that homemade biscuits go bad more quickly as they do not contain any preservatives. So let them dry well before storing them in a cool and dry place, preferably in an airtight container.
Tip: These biscuits make a great Valentine's Day gift for your pet's friends!
We hope we've given you some ideas for the perfect Valentine's Day with your dog. After all, every dog owner knows that their dog is the perfect Valentine! A long walk in the woods, a delicious meal (for both two and four-legged friends) and an extended cuddle session on the couch make every day perfect.
Search by tag